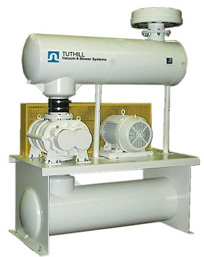 Blower Systems: by M-D Pneumatics
Low-noise PneuMax™ blower packages incorporate a small package footprint with integral noise control enclosure for open field noise performance of 85 dB(A) at 1 m., as well as built-in instrumentation, check and relief valves.
PneuPakT blower packages are dependable and economical air sources for many industrial and municipal applications such as pneumatic conveying, fluidization/agitation of bulk powders, wastewater aeration, and motive force for vacuum exhausting, dairy milking and central vacuum systems
Select from our line of M-D Standard Blower Packages , utilizing our lines of PD Plus ® , Equalizer ® or AcousticAir ™ blowers that ship in as little as two weeks. Certified engineering drawings are immediately available for customer layout and piping design work.
For special applications requiring Engineered Blower Packages, we can design and manufacture specifically to your requirements. Blower design, materials of construction, seals, and accessories can be selected to ensure performance to meet all operating conditions of your application.
Interested in this product? Click Here for more information