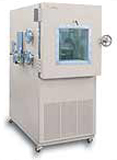 [ View Brochure ]
Tenney Strat Altitude Chambers
Tenney's Strat Altitude Chambers simulate altitudes up to 200,000 feet. With an overall temperature range of -70°C to +177°C, humidity capabilities of 20% to 98% RH, and workspace sizes ranging from 5 to 64 cubic feet, this highly developed line of altitude chambers offers one of the broadest selections in the industry.
We are confident that our solid altitude chamber construction and precise operating systems will provide the exacting performance and high degree of reliability for your altitude testing needs.
Features of Tenney Altitude Chambers:
Continuously welded, stainless steel, vapor-tight interior liners
Control tolerance is ±0.3ºC and ±2% RH typical after stabilization
A platinum RTD temperature sensor
Linear pressure transducer to measure altitude
Model T5STR- Non-corroding, vapor-injection humidity system with low-water protection
Vertical-down recirculating conditioning stream

[ View Brochure ]
TENNEY Thermal Vacuum Chambers
Tenney's Thermal Vacuum Chambers are capable of simulating vacuum to 10 -7 torr; have overall thermal capabilities from -70°C to +125°C, and chamber sizes ranging from 2.65 to 226 cubic feet. Tenney has designed and manufactured numerous custom configurations by adapting standard proven modules that provide a reliable packaged thermal vacuum chamber to meet your testing criteria.
Features:
A highly polished stainless steel vacuum vessel
An ultra-clean, high speed vacuum pump
Full-opening, O-ring sealed access door
Refrigeration systems are designed to the same exacting standards used by Tenney in the manufacture of its extensive test chamber product line