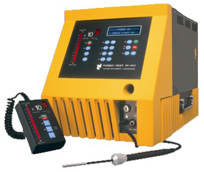 Helium Mass Spectrometer: VIC Leak Detection .
Finding Leaks Slowing You Down?
The MD-490S is a leader among portable helium leak detectors. With a response time less than 0.5 seconds, sensitivity to 10 -8 direct reading Atm-cc/sec, and the ability to zero-out background, this is the most aggressive portable leak detector in the industry with advanced features designed specifically for industrial use.
Check out these features:
NEW Vibra-Leakô Probe (patent pending) with background suppression button provides tactile feedback when leak rate exceeds the reject set point; ideally suited for noisy environments where audio alarms cannot be heard or where leak detectors are in close proximity; Vibra-Leakô Probe solves background helium problems during the test.
NEW Helium background suppression ; With a push of a button, the MD-490S eliminates the background.
NEW Most sensitive sniffer available with a 10 -8 sensing capabilities through enhanced helium collector design and signal processing.
Fully interactive system diagnostics include critical parameters such as run times, operating voltages/currents and pressures.
Graphical and numerical displays of leak rate values.
Sealed membrane keypad for long life in harsh environments.
Fully automatic calibration sequence with built-in 10 -5 ATM-cc/sec gas leak prompts operator to insert probe into the built-in leak and adjusts the machine's leak rate reading to match the leak value; The built-in calibrated leak is traceable to the National Institute of Standards and Technology and is provided with certification.
Dry (oil-free) vacuum pumping minimizes maintenance and potential oil contamination problems.
Probe blockage alarm ensures proper system performance.
Front panel key lock-out prevents unauthorized users.
High output (110db Adjustable audio alarm.
Alphanumeric Prompting Display (multilingual): The MD-490S is fully interactive; It is the only portable helium leak detector that keeps you continuously informed of the process with a multilingual alphanumeric prompting display that uses words rather than icons for more accurate communication.
Built-in Calibrated Gas Leak is accessible through side panel door; The calibrated gas leak is designed to allow direct reading of leak rates in atmospheric conditions.
Specifications:
Sensitivity- Smallest detectable helium leak rate 5 x 10 - 8 ATM-cc/sec. helium (Atmospheric sniffer mode).
Response Time- Approximately 0.5 seconds.
Leak Rate Range- 10 -3 to 10 - 8 ATM-cc/sec. direct reading of helium leak rate (compensated for atmospheric sampling).
Start-up Time- Less than 3 minutes, one button automatic operation.
Electricals
Console-Microprocessor based electronics, incorporating 40 character alphanumeric prompting display. Fully automatic operation including start-up, shutdown, leak rate ranging, automatic zero and diagnostics including operating and runtime parameters. Contains 40 segment leak rate indicator and operator function buttons.
Mass Spectrometer
Miniaturized 90° deflection, fixed magnet design. All stainless steel construction. NW-40 flange for high vacuum connection. Utilizes two non-burnout thoria coated iridium filaments.
Vacuum System
Pumps: Dry (oil-free) built-in diaphragm, fore-pump and 70-liter/second air-cooled molecular drag pump.
Inlet System: Interstage design incorporating integral mass separator high flow atmospheric inlet. Standard sniffer probe hose length 10'. Other lengths available on request.
Calibrated Leak: 150-cc high pressure cylinder with low volume stainless steel leak element. Traceable to N.I.S.T with calibration certificate supplied. Easily removable for re-calibration.
Pressure Measurement: Probe blocked sensor (10 -3 Torr). Turbopump speed characteristics for high vacuum (10 -6 Torr).
Power Requirements
115/220 Volts, 60/50 Hz, 6/3 Amps; CE Compliant.
Interested in this product? Click Here for more information