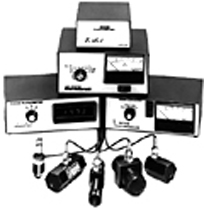 Mass Flowmeters : VIC Leak Detection .
Vacuum Instrument Corporation's acquisition of Phase One Instruments Inc. has rounded-out our leak detection product line. The Phase One Instruments division of VIC offers the following products and services.
Mass Flow Meters and related accessories
Complete Leak Test Systems utilizing Mass Flow Measurement
Flow Test / Restriction Evaluation Systems
Dimensional, Electrical. Pneumatic and other related Test Systems
An ultra-fast response thermal mass flow meter is at the center of each Phase One Instruments series Mass Flow Test System. These devices have been optimized to perform with a very low pressure drop making them ideally suited for high throughput mass flow leak test applications.
Standard conditions are 70°F and 29.92 inches of mercury
Features and benefits of using Phase One Instruments Mass Flow Equipment:
Unique Patented Test:
Technique optimizes testing under all conditions. Speeds testing and assures minimum cycle time. Self adjusting with temperature changes. Part cannot be over pressured.
Automatic Set-Up:
The operator simply loads a part and presses the start button. The test parameters are automatically determined and stored. Generates and stores unique parameters that are checked with each test to assure the part is properly tested under all conditions.
Capability of Testing Hot Parts:
Reliable techniques for testing hot parts and parts of varying temperature.
Adiabatic Heating Compensation:
Minimizes required test time by determining the stabilization curve of a known good part.
Proven Fixturing Techniques and Components:
Featuring easily replaceable seals and specially designed expandable seals.
Unitized Leak Test System:
Self-contained manifold minimizes connections. Featuring pilot operated valves for maximum CV and elimination of heating effects.
Continuous Diagnostics:
Displays Fault codes for easy maintenance and troubleshooting.
Automatic Sensor Calibration:
Utilizes internal N.I.S.T. traceable leak master for automatic calibration adjustment.
Test Data for SPC and Statistical Analysis:
Test readings of data can be transmitted with each test or internally stored and periodically downloaded.
Interested in this product? Click Here for more information