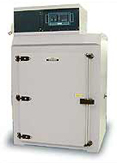 Blue M Batch & Batch Truck Ovens
The Industrial Batch Ovens have for years been meeting a variety of test and production applications. Their reliability and fine performance have made them the choice of many industries.
Batch Oven Features:
Heavy gauge steel exterior and interior with all exterior panels are welded 14 and 16 gauge, cold rolled reinforced steel. interior features stainless steel-reinforced 304.
Welded construction contributes to Blue M's legendary strength & reliability.
Fiberglass Insulation - 4 full inches minimizes heat loss.
Baked on powder-coated enamel finish for long-lasting corrosion protection.
Double-wall, insulated doors with Blue M silicone rubber seal with double doors on 48-inch and larger models.
Side-mounted control compartment for easier control access (60, 75, 80 and 96 cu. ft. models only).
Manually adjustable intake/exhaust system offers rapid cool down or operation close to ambient.
Wiring - complete and enclosed to meet N.E. code, as amended.
Uniform, Accurate and Reliable Temperature Control:
Available with profiling or single set-point controls
Horizontal air flow assures uniform thermal performance under all loading conditions.
EXCLUSIVE BLUE M Eterna™ heating elements with low waft density for longer service life, and cylinder type to assure years of reliable service.
Blue M one-pass air flow controls your profile, including cool down, infinitely variable control from full re-circulation to full one pass, and optional motorized damper for automatic operation.
Direct drive blower - designed especially for these models, with no bearings, pulleys or belts, motor overload protection, multi-blade centrifugal blower, high-volume air delivery and dynamically balanced for minimum noise and maximum reliability.

Standard Batch Oven Options:
Stainless or CRS steel slotted shelves
High-temperature capability of 750°F
High-power for fast heat-up, high exhaust or large loads
Door switch
Motorized intake damper
Welded and sealed inner chamber
24-hour, 7-day program timer
10" circular chart recorder
Reverse door hinge
Backup over-temperature protection

Engineered Oven Options:
Additional lead-in ports
Interior light
Glass observation panel (s)
Oversized one-pass airflow system for faster cool down
Redundant over-temperature protection
Rear access door (s)
Comm-Link RS-485 to RS-232 converter
All stainless steel construction
Special control systems
Five-drawer and five-door configurations for process flexibility

Roll-In-Rack Options:
Cold-rolled or stainless steel roll-in-racks
Roll-in-rack shelves
Special truck channel or flat un-insulated floor for customer designed racks
Custom designed roll-in-racks for product fixturing
Pass-through "tunnel" design with front and rear doors