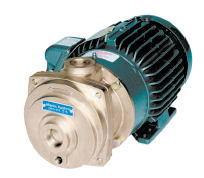 Liquid Ring : Atlantic Fluidics® Single Stage "A" Series
Atlantic Fluidics' single-stage "A" series and two-stage "T" series vacuum pumps are simplistic in design, rugged in construction and built to run in the most severe of industrial conditions. With no metal-tometal contact, it is not unusual for these pumps to run in 24/7 operation for years without maintenance.
These "abuser-friendly" pumps are vibration-free and environmentally friendly, with no oil used for lubrication, and no oil discharged to atmosphere. Complete, self-contained systems, including liquid recovery and recirculation, are also available. Alternate seal fluids including oil may be used for certain applications.
"A" series single-stage pumps pull down to 29" Hg (25 Torr [33 mbar a]); "T" series two-stage pumps pull down as low as 4 Torr (5.3 mbar a). However, low-pressure performance is limited by the vapor pressure of the sealing liquid, which can be water, oil or process liquids.
Typical Applications :
Filtration
Solvent Distillation/Vapor Recovery
Sterilization
Autoclaves
Degasifiers
Extruders
Deaeration
Evaporators
Available Models :
| | | |
| --- | --- | --- |
| Model | CFM / m3/h | HP / kW |
| A5 | 10/17 | 1/0.75 |
| A10 | 16/27 | 1.5/1.1 |
| A15 | 22/37 | 2/1.5 |
| A20 | 35/59 | 3/2.2 |
| A75 | 80/136 | 5/3.7 |
| A100 | 115/195 | 7.5/5.5 |
| A130 | 150/255 | 10/7.5 |
| A200 | 220/374 | 15/11 |
| A300 | 300/510 | 20/15 |
| A600 | 625/1062 | 40/30 |
| T0505 | 10/17 | 2/1.5 |
| T1505 | 20/34 | 3/2.2 |
| T2010 | 30/51 | 5/3.7 |
| T7530 | 75/127 | 7.5/5.5 |
| T10030 | 100/170 | 10/7.5 |
Download Brochure:

Atlantic Fluidics A5 A20 Specification Sheet (.30 Mb)


Atlantic Fluidics A75 A130 Specification Sheet (.33 Mb)


Atlantic Fluidics A200 A300 Specification Sheet (.33 Mb)
Interested in this product? Click Here for more information