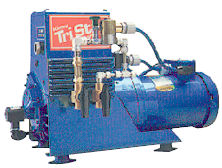 Rotary Piston: KINNEY® KC and KTC Series
KC and KTC rotary piston vacuum pumps achieve the lowest possible pressures from mechanical pumps and are recommended for applications where the operating pressure is below 0.1 Torr (0.13 mbar).
As there is no metal-to-metal contact from the clearances being filled with oil, these two-stage pumps are extremely rugged and reliable. KC and KTC pumps are air-cooled with the exception of the KTC-112, which is water-cooled (optional air-cooled systems are available). Adjustable gas ballast valves are included as standard equipment for handling water and other vapor loads.
The triplex piston design incorporated into the KTC pumps is inherently dynamically balanced and is practically vibration-free.
Typical Applications :
Evacuating Refrigeration Systems
Liquid Gas Storage
Brake Filling Systems
Low-Pressure Chemical Vapor Deposition (LPCVD)
Silicon Crystal Growing
Leak Detection
Available Models :
| | | |
| --- | --- | --- |
| Model | CFM / m3/h | HP / kW |
| KC-5 | 5/8.5 | 0.33/0.25 |
| KC-8 | 8/14 | 0.5/0.37 |
| KC-15 | 15/25 | 1/0.75 |
| KTC-21 | 21/35 | 1.5/1.1 |
| KTC-60 | 60/102 | 3/2.2 |
| KTC-112 | 107/182 | 7.5/5.5 |
Download Spec Sheets:
Interested in this product? Click Here for more information