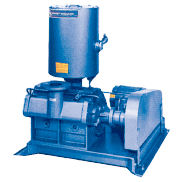 Rotary Piston: KINNEY® KD and KDH Series
KD and KDH vacuum pumps are belt-driven, low-speed rotary piston pumps. These pumps enjoy unparalleled ruggedness and reliability; some have been in system operation for over 70 years. This reliability is due to no metal-to-metal contact from the clearances being filled with oil. Gas ballast and their large oil capacity enable the KD and KDH models to handle moderate water or other vapor loads.
KD models are air-cooled, KDH models are water-cooled.
Typical Applications :
Drying Chambers
Degasifiers
Filling Machinery
Evacuation of Process Chambers
Available Models :
| | | |
| --- | --- | --- |
| Model | CFM / m3/h | HP / kW |
| KD-30 | 33/56.1 | 1.5/1.1 |
| KD-50 | 52/88.4 | 2/1.5 |
| KDH-130 | 134/227 | 5/3.7 |
| KDH-150 | 150/255 | 7.5/5.5 |
Download Spec Sheets:

KD Series
Interested in this product? Click Here for more information