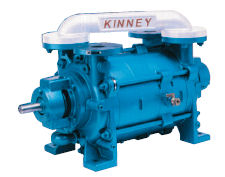 Liquid Ring : KINNEY® KLRC Series
KLRC liquid ring vacuum pumps are ideally suited for pumping wet mixtures and even slugs of liquid. They are available in bronze, all iron construction (no yellow metals) and 316 stainless steel. Liquid ring pumps often require water-cooling, but air-cooled systems are available.
Complete engineered system solutions, including instrumentation, controls, piping and valves; self-contained liquid recovery and recirculation are also available.
KLRC liquid ring vacuum pumps can pull down as low as 4 Torr (5.3 mbar a). However, low-pressure performance is limited by the vapor pressure of the sealing liquid, which can be water, oil or process liquids.

Typical Applications :
Chemical and Pharmaceutical Processing
Vapor Recovery
Deaeration
Extruders
Crystallizers
Central Vacuum Systems
Available Models :
| | | |
| --- | --- | --- |
| Model | CFM / m3/h | HP / kW |
| KLRC-40 | 35/60 | 5/3.7 |
| KLRC-75 | 70/120 | 5/3.7 |
| KLRC-100 | 100/170 | 7.5/5.5 |
| KLRC-125 | 130/220 | 10/7.5 |
| KLRC-200 | 205/350 | 15/11 |
| KLRC-300 | 300/510 | 25/18.5 |
| KLRC-525 | 560/950 | 50/37 |
| KLRC-775 | 830/1410 | 75/56 |
| KLRC-950 | 990/1680 | 100/75 |
Download Brochures:

KINNEY KLRC 40 75 Specification Sheet (.46Mb)


KINNEY KLRC 100 125 Specification Sheet (.49Mb)


KINNEY KLRC 200 300 Specification Sheet (.45Mb)


KINNEY KLRC 525 526 Specification Sheet (.43Mb)


KINNEY KLRC 950 951 Specification Sheet (.48Mb)
Interested in this product? Click Here for more information