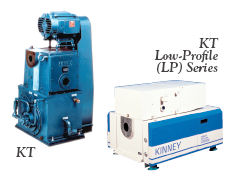 Rotary Piston: KINNEY® KT Series
KT pumps are quiet running vacuum pumps with high pumping capacity at both high and low pressures. The triplex piston design is inherently dynamically balanced
and is practically vibration-free. Even in dirty applications, the KT enjoys unequalled durability, as there is no metal-to-metal contact between the pump piston and the cylinder; clearances are filled with oil. All KT models include an integral, positive pressure lubrication system to insure reliable lubrication at all pressure levels. KT pumps are water-cooled; however, optional air-cooling systems are available on several sizes. Adjustable gas ballast valves are included as standard equipment for handling water and other vapor loads.
LP series KT pumps incorporate all the features of the standard KT pumps, in addition to an integral oil mist eliminator and a compact, low-profile design.
Typical Applications :
Vacuum Packaging
Vacuum Furnaces
Vacuum Coating
Available Models :
| | | |
| --- | --- | --- |
| Model | CFM / m3/h | HP / kW |
| KT-150C | 144/245 | 7.5/5.5 |
| KT-300D | 296/503 | 15/11 |
| KT-500D | 484/822 | 30/22 |
| KT-840VFP | 484/822 | 30/22 |
| KT-850D | 788/1322 | 40/30 |
| KT-1350VFP | 788/1322 | 40/30 |
Download Spec Sheets:

KT Series
Interested in this product? Click Here for more information