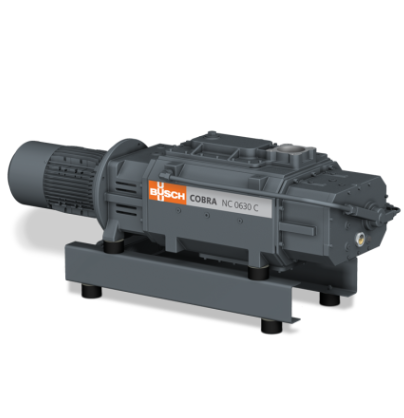 COBRA Industry Dry Screw Vacuum Pumps
Ultimate pressure: 0.0075 - 0.75 Torr
Pumping speed 60 Hz: 50 - 1471 ACFM
COBRA NC dry screw vacuum pumps are highly efficient for use in many industrial applications including process applications. These models represent many years of experience in dry vacuum technology and offer key design benefits:

Reliable and robust
The variable pitch and free gas outlet greatly improve the pump's ability to handle liquid and dust carry-over. The unique temperature distribution offers resistance to corrosion. The optimized efficiency reduces the thermal load, thus increasing pump service life.

Easy to service
A simple, robust design and the ability to handle the vast majority of process gases ensures long service intervals and minimum maintenance downtime.

Application-oriented
COBRA NC dry screw vacuum pumps can accommodate a number of applications due to the different versions available. The cooling water can be injected direct or radiator cooled. COBRA NC dry screw vacuum pumps are also available as ATEX versions.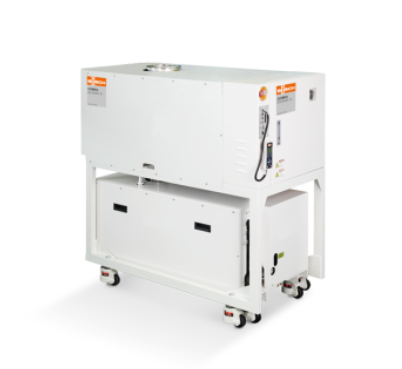 COBRA Semicon Dry Screw Vacuum Pumps
Ultimate pressure: 0.001 - 0.03 hPa (mbar)
Pumping speed 60 Hz: 85 - 7385 m³/h
COBRA DS dry screw vacuum pumps offer state-of-the-art harsh duty process and high capacity load lock solutions for the most demanding solar, flat panel, semiconductor or coating applications. These vacuum pumps have best-in-class pumping speed combined with superior hydrogen throughput and excellent powder handling capabilities resulting from their unique screw pump design.

Efficient
Equipped with high-efficiency motors and state-of-the-art idle mode capabilities, the COBRA DS series offers excellent energy savings potential.

Easy to service
The compact design, with its separate booster and screw pump frames, allows for easy installation and maintenance.

Optimal cost of ownership
Due to their optimized space-saving design and energy savings potential, overall cost-of-ownership for these COBRA DS series vacuum pumps is low.